Explore the relationship between the church and culture through a study of the arts.  Delve into art history, tour museums, and experience a live Shakespeare play, under the guidance of Dr. Charlene Thomas, with thirty years of experience in teaching humanities at the college level, and Mr. John Hodges, a fascinating speaker with practiced expertise in apologetics and music. Follow link to view first segment flyer.
(For more info on the summer studies program see: Summer Studies.)
Schedule June 11-28 (Tentative):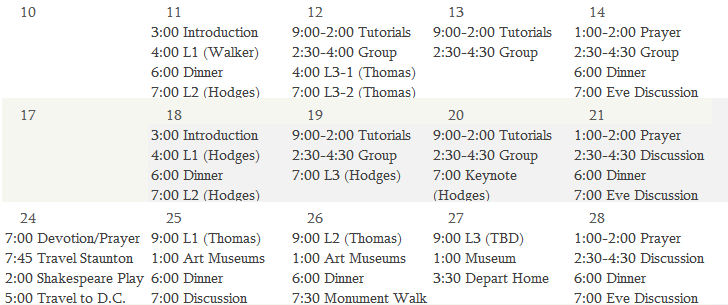 Lectures:
The Christian and Responsible Engagement
Historical Perspective on Art and Culture
Knowing God through Metaphors
Beauty in God's Economy
Beauty and Literature
Beauty and Music
Beauty and Visual Art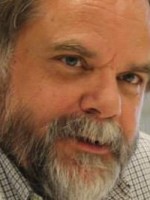 John Hodges is the Director for The Center for Western Studies. Mr. Hodges is a conductor and composer, holding degrees in Music from the University of Maryland (B.A) and Indiana University (M.M.).  He served as Music Director for various symphony orchestras and church music programs in Memphis from 1983-2009.  He also held the position of Associate Professor of the Arts and Cultural Apologetics at Crichton College where he taught art and music history, philosophy of the Christian Faith, directed theater, and founded and directed the Institute for the Arts and Cultural Apologetics.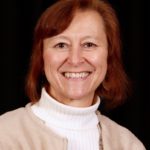 Dr. Charlene Thomas has taught humanities and art history and art history at Milligan College since 1981. She holds degrees from Virginia Polytechnic Institute and State University (Ph.D.), East Tennessee State University (M.A. English, M.A. Art History), Milligan College (B.A.). In addition to her classroom instruction, Dr. Thomas enjoys leading art history tours and providing Christian counseling.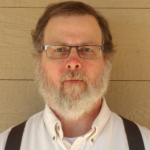 Dean Walker is the Executive Director of the Geneva Institute of Christian Thought. He holds degrees in philosophy of religion (Th.M.) and Christian apologetics (MDiv specialization).  When he is not challenging his students with impersonations of various existential philosophers, Mr. Walker enjoys hiking and tending the responsibilities of homestead and family.
Tentative Book List:
The Creative Gift   Rookmaaker
Art and the Bible  Schaeffer
Modern Art and the Death of a Culture  Rookmaaker
Six Great Ideas  Adler
The Nature of True Virtue  Jonathan Edwards
What to Listen for in Music  Copland
State of the Arts  Veith
Resonant Witness  Begbie
For more information or to request an application form please contact Ginny Walker at ginny.walker@genevainstitute.org