Listen to our students discuss the benefits of classes at the Institute and then see below for uncut glimpses into our classes!
These previews are uncut (except to remove incidental material such as announcements, etc.) and provided to give a glimpse into the types of instruction at the Institute.
Great Books Series
Our Great Books Series covers four periods of history: the ancient world, Christendom, the renaissance and reformation, and the modern world. These classes combine literature, history, worldview and rhetoric. The books that have influenced western civilization are encountered and critiqued from a biblical perspective. In this class it is the Quran that is discussed.
New Testament Literature and Interpretation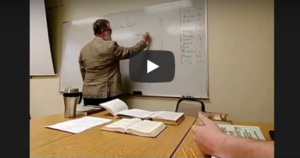 In our New Testament Studies we attempt to tie the more abstract and academic material to the text (Scripture) itself. Whether we are discussing Canon, Missionary Journeys, History or Jewish Culture; we desire direct engagement with the Scriptures. In this class we are discussing methods of interpretation. We start out by reviewing Greek tenses and their nuances and then discuss how to analyze the structure of a given passage. This is done in the context of Romans 3:21-16 and Romans 8:26-30. Appropriate passages since the focus of week's study was the book of Romans!